FAQ
From Iris2
Update to latest Iris2 Version
Start "Iris2 GUI-Updater" from your Windows Start and select Version: "latest" and hit the "update" button.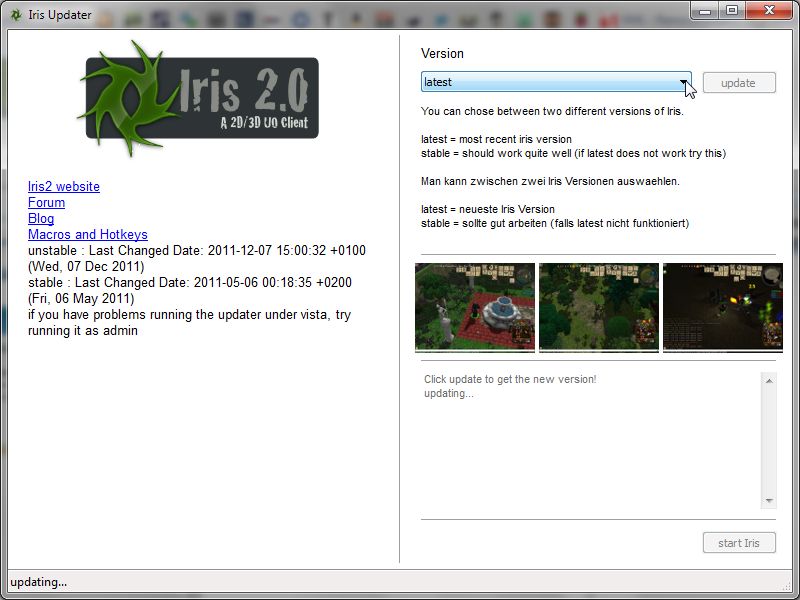 Updater don't start
Windows Vista and Windows 7 Users, please execute our Updater Tool with Admin rights. If Iris don't start, execute also with Admin rights.

Updater Problems?
1. read here
Iris2_Setup.exe can't Access temp Directory
Vista & Windows7 Users: Please lower the User Account Control rights to start the Iris2_Setup.exe.

(Press the START Button and type uac and hit Enter)

Iris2 for Windows was tested and should work on the following Systems:
Windows Server 2003 R2 Enterprise Edition SP 2
Windows XP Professional SP 2
Windows XP Professional SP 3
Windows 7 Professional 32bit
Windows 7 Professional 32bit SP 1
Windows 7 Professional 64bit
Windows 7 Professional 64bit SP 1
Simple/Emergency Updater don't work
If you have the following message, start the Simple/Emergency Updater with Admin rights.

updating...
svn: Can't remove 'src\.svn\tmp\prop-base': Zugriff verweigert
svn: Working copy '.' locked
svn: run 'svn cleanup' to remove locks (type 'svn help cleanup' for details)
update finished

Controls
see: Controls
Howto find the Iris2 Configuration?
During the initial start of Iris2, the Configuration template from Iris2/config is copied to your UserHome directory. This is the configuration Iris2 is using!

How to find it on Windows?
Just type the following into your Winows Explorer and hit Enter. It's the ".iris" directory.


HINT: If you want Iris2 to load the configuration from "Iris2/config" dir, you have to delete the "USE_HOME_DIR" file from "Iris2/".
Howto limit the chat output lines ?
Open the Windows Explorer and type in: %appdata%/.iris/config/config.lua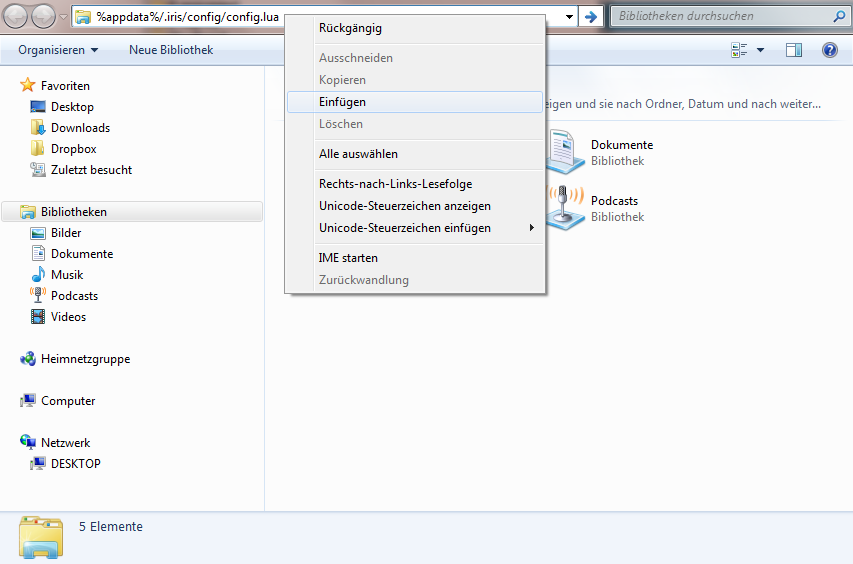 Edit the config.lua with Notepad and put this in, to limit the output to the last two lines:
gMaxFadeLines = 2
D3DX9_xx.dll not found
Please install the newest DirectX End-User Runtime (WebInstaller) from Microsoft!

UOAM
UOAMHub ported to Win32 by Nyvar
Own Server (RunUO)
look here http://www.zlug.org/wiki/Ultima_Online
connecting to pol shards (allow unencrypted clients)
iris doesn't support encrypted connections, so the shard has to allow unencrypted clients for iris to be able to connnect.
add the following to uoclient.cfg(newer pol versions) or pol.cfg (old pol versions) in the pol shard config.
 Listener
 {
 Port 5003
 Encryption none
 AOSResistances 0
 }

Debugging
put this in your config/config.lua

gDebugCategories.loading	= true
gDebugCategories.sound		= true
gDebugCategories.mobile		= true
gDebugCategories.animation 	= true
gDebugCategories.granny 	= true
gDebugCategories.static 	= true
gDebugCategories.walking 	= true
gDebugCategories.net 		= true
gDebugCategories.skill 		= true
gDebugCategories.missing 	= true
gDebugCategories.gump 		= true
gDebugCategories.login 		= true
gDebugCategories.multi 		= true
gDebugCategories.player		= true
gDebugCategories.equip		= true
gDebugCategories.effect		= true